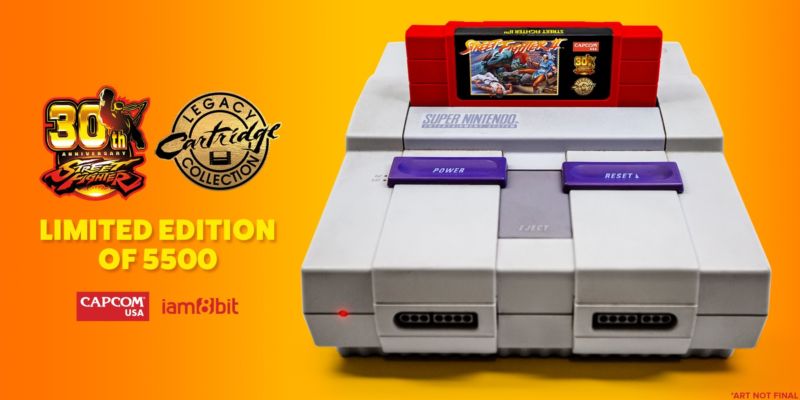 The fact that Street Fighter II is seeing another re-release later this year isn't all that surprising. Since its arcade and 16-bit heyday, the classic fighting game has appeared in some form or another on the PlayStation, PS2, PS3, PSP, Saturn, Xbox, Xbox 360, iOS, and feature phones, after all.
What was surprising is that this latest rerelease of the ur-fighting game would come on an actual, playable Super NES cartridge. Creative production company iam8bit will start shipping a limited run of 5,500 Street Fighter II 30th Anniversay Edition cartridges—in "Opaque Ryu Headband Red" or "Translucent, Glow-in-the-Dark Blanka Green"—starting in November. Pre-orders have already sold out for the $100 package, which includes a retro-styled box, "Premium Instruction Booklet," and "Retro Pack-In Surprises."
Re-releasing old games on new hardware has long been common, of course, and there's also been a growing niche industry of specialists releasing playable cartridge versions of homebrew titles, rare prototypes, and ROM hacks on a variety of classic consoles. But this is the first time we can recall a cartridge-based game getting an officially licensed re-release in its original format, on its original platform, decades after its original launch.
Grab your original hardware, an old standard-definition tube TV, and bask in the nostalgia.
The magic of the cartridge
"It's because we're old enough now." That's what iam8bit's Jon Gibson told Ars about why we're seeing original cartridges make a vinyl-style comeback. "Cartridges were something we idolized as kids—they were tangible, bulky, beautiful things that were worshiped. It was an emotional moment to get a new cartridge, because they certainly weren't cheap."
Gibson recalls paying $70 in single dollar bills gathered from birthdays and allowance money to get a copy of Bad Dudes for the NES from Toys R Us (that's even more impressive when you adjust for inflation). "Bad Dudes wasn't a great game, but I cherished it because of the experience obtaining it, reading about it in magazines, deciding that was the one I was gonna get!"
"There is magic in inserting a game into the console—choosing that particular game to play," Gibson continued. "It's a procedure, and now that we're all grown up, the memories of that process are strong. We live in a digital age, but those analogue sensations still run deep."
iam8bit has worked with Capcom for over a decade, collaborating on licensed products like shirts and community events like Street Fighter Club. The companies have also collaborated on cartridges before, sending out a limited set of 150 gold-painted Duck Tales NES reproduction cartridges to promote the release of Duck Tales Remastered in 2013. So working together to bring Street Fighter II back to the SNES was a natural conversation, Gibson said.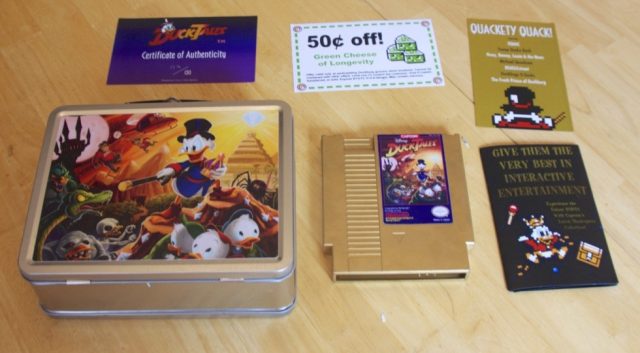 "We've built up an immense trust with Capcom over these many years of working together, and that really helped us to bridge the gap to make this project happen," iam8bit's Amanda White told Ars. "It is so helpful to have a shorthand with our partners, especially when there are so many important and beautiful details to consider." And while Gibson says there have been "conversations" with Nintendo about the idea, this is a third-party release that doesn't require the console-maker's official backing.
While Gibson said he's intently familiar with the "bootleg" cartridge scene through shows like the Classic Gaming Expo, he sees his company's "Legacy Cartridge Collection" as a fundamentally different effort, more akin to film's Criterion Collection. "They don't just release the film-they restore it," he said. "They don't just reprint the packaging verbatim; they embolden its features. We've read some comments from folks thinking that all we're doing is releasing a 'red' cartridge and calling it a day, but come on! That's not the iam8bit way! Like we don't have plenty of surprises in store for the lucky people who landed a copy of this!"
Though $100 might seem steep for a "new" version of an SNES cartridge that can still be purchased secondhand for about 10 bucks, Gibson said that's not a fair comparison for a "premium" package like this. That package includes a shelf-worthy box with additional art on an expandable tri-fold, an instruction booklet with restored visuals printed on "heavyweight" paper ("for a sturdier page turn," Gibson says), and a few surprises Gibson wasn't ready to announce yet. "It's a painstaking process, but well worth it to preserve and hopefully add to the legacy of what is one of the most enduring games ever made," he said.
How to make an SNES cartridge in 2017
While a lot of retro reproduction cartridges simply load a ROM file off of flash memory, iam8bit is manufacturing its cartridges on an authentic SNES ROM chip that includes the original game code (not a Criterion-style "restoration" or a Mega Man Legacy Collection-style anthology). Unfortunately, Gibson says, the "large 16​-​megabit​,​ 5​-​volt memory chips which the original Street Fighter II cartridge uses are no longer readily available in today's market. Due to the progression of technology over the years, the majority of large memories have reduced to ~3 volts or less."
While a 3-volt ROM chip would likely work directly on a 5-volt system, iam8bit is inserting voltage level translators into its cartridges "to prevent excessive wear and risk of damage," Gibson said. But the voltage difference also forced iam8bit to include a scary-sounding warning on its sales page, telling buyers that "use of this reproduction game cartridge… on the SNES gaming hardware may cause the SNES console to overheat or catch fire."
"Anytime there is even an inkling of risk out in the ether, lawyers tend to swoop in with language designed to protect consumers and product producers alike," White told Ars Technica. "This is one of those cases—where the idea that we'd be producing a cartridge designed to plug into a vintage console whose operational status is unknown to us—started to make our lawyers twitch." Despite the serious-sounding language, White says "We are very confident that there will be no issues with our cartridge. It has been designed and produced with every safety consideration in mind."
Going forward, Gibson and White played coy about specific plans for cartridge-based re-releases, but White did mention "a slate of releases planned for 2018 and beyond. Let's just say that we suspect that collectors and players alike will be quite pleased with what's to come."