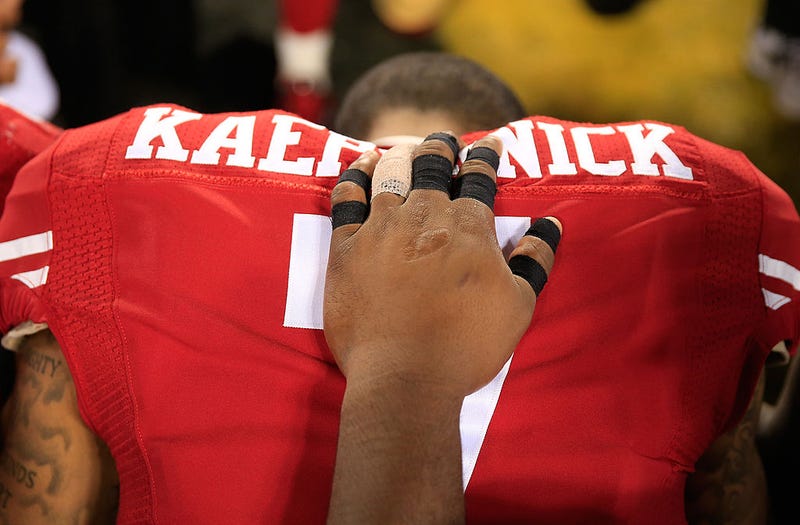 Washington running backs Keith Marshall and Rob Kelley were in the Gamestop store at the Dulles 28 Centre in Virginia on Tuesday. When they saw a kid wearing a Colin Kaepernick jersey then asking how much Xbox One consoles were, the pair got together and bought one for him.
The duo were in the store at the same time as 10 year-old Jaden Watts. They first noticed him when they "complimented him on his Colin Kaepernick 49ers jersey", the Washington Post reports, before approaching the boy's grandmother to ask if it was OK if they bought him the console and a game.
"The first thing I'm thinking is there's some pedophile trying to buy my grandson an Xbox," Watts' grandmother Saundra said. "So I'm like, I'm going to bust up in there and bust his bubble."
Turned out hey, they were professional football players, and suddenly everyone was cool. Kelley had overheard Watts talking about having to save up to pay for an Xbox, and thinking "I wish someone would've done something like that for me when I was growing up", spoke with Marshall and agreed to buy Jaden an Xbox One and a copy of NBA2K18.
Asked by the Post why he was wearing a Kaepernick jersey when he was a self-professed Cowboys fan, Jaden says "I liked how he wasn't afraid to show what he thought. He risked getting fired, which was a big thing. I wouldn't even do that, but he did, and I really like him for standing out. I don't know if people agree with it, but he just doesn't care what people say and that's inspired me and probably inspired other people."
"Jaden flew on cloud nine to the car," his grandmother adds. "The next morning, he woke up and looked at me and said, 'Nana, I had a dream that I was in a GameStop and two Redskins players bought me an Xbox.' I said, 'That wasn't a dream, you dodo, that really happened.' It was un-be-lievable. Unbelievable. He's just such a good kid and it was just such a blessing. It was just so wonderful, the experience of a lifetime."